Starting to Feel the Pressure to Focus on Cybersecurity? We Don't Blame You…
Cybercrime is on the Rise with Ransomware Damage Costs Predicted to Rise to $11.5 Billion in 2019!
It's expected that a business will fall victim to a ransomware attack every 14 seconds by this time next year. Can you imagine? Chances are, one of those businesses will be yours if you don't focus on cybersecurity now! Your data is an incredibly valuable asset – not only to you, but to cybercriminals as well. Here's just a few examples of threats you need to protect against:
Ransomware wherein cybercriminals block access to your data or computer systems in exchange for a ransom fee.
Phishing wherein cybercriminals send convincing emails claiming to be reputable companies in need of your personal information.
Malicious pop-ups wherein you're lured into clicking on an ad that infects your computer with malware.
Social engineering attacks wherein a cybercriminal manipulates you into giving personal information.
Phony wireless networks wherein a cybercriminal sets up a phony wireless network in a public place and uses keyloggers to steal your information.
And much, much more as cyber-threats are growing – becoming more advanced by the day.

Yes! Please Send Me Amnet's Cybersecurity eBook to discover the secrets in protecting myself against hackers.
Fill out the form below.
Your Information Is Safe With Us. We will never sell, rent, share or distribute your personal details with anyone. In addition, we will never spam you.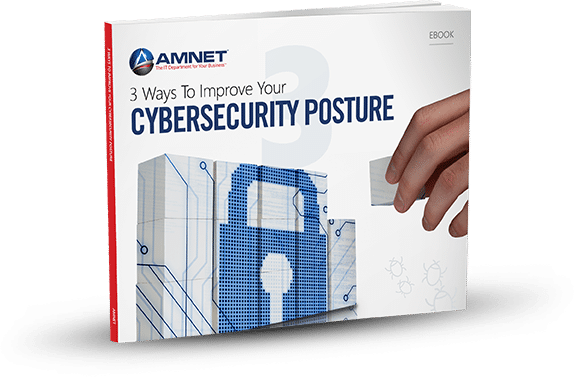 Did you know big businesses aren't the only targets? Sure, in 2013, Target was hit when hackers stole data from almost 40 million credit and debit cards. In 2014, Home Depot was hit when hackers managed to put 56 million payment cards at risk. In 2017, WannaCry, a form of ransomware, hit more than 150 countries!
But here's what we don't hear about on the news: 43% of cyberattacks target small businesses with 60% of small businesses going out of business within 6 months of becoming a victim! Those are some pretty scary numbers, aren't they? You don't want your business to become a victim of cybercrime.
Download our Cybersecurity ebook NOW to discover the secrets to protecting yourself against hackers.