5 Great Tools for Visualizing your Twitter Followers
This article originally appeared on Mashable.  It provides some great information that we think you'll like! 
We've brought you a few roundups of some pretty cool Twitter visualization tools in the past, and now we're back with five more for your Twitter-lovin' pleasure.
The selection we've curated here concentrates on graphically presenting your followers, contacts and various snippets of information related to them.
If you're interested in seeing what your TwitterTwitter
followers look like as a keyword cloud, on parade, or even on a mug, then have a look at the tools below and let us know your thoughts in the comments.
1. TwitterSheep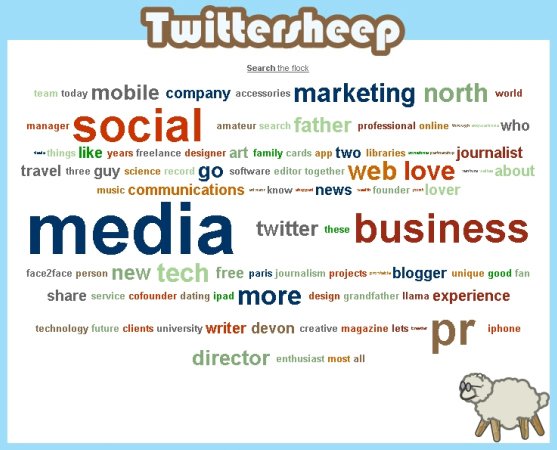 This is a really simple, but super fun way to look at your Twitter followers. TwitterSheep generates a keyword cloud based on the text in your followers' bios. To generate a cloud of your own (or indeed a cloud for anyone else's Twitter name) just head on over to the site, enter the name and within minutes you can have your own keyword cloud that you can choose to tweet out to your "flock."
2. 5k Twitter Browser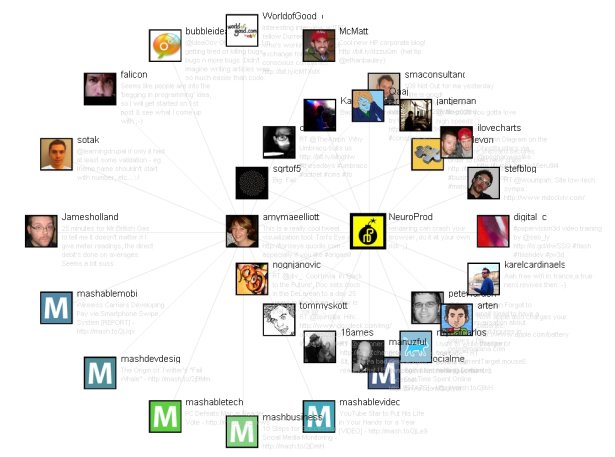 Neuro Productions' Flash-based Twitter browser is a spacey way to "see" connections on Twitter, something that is nearly impossible on the site itself. Start with any Twitter user's name and the app will load up a circle of contacts, their thumbnail pic and latest tweet. Click on a contact in that circle and it will do the same, endlessly creating visual connections that people have made across the social networking site as long as you keep clicking.
3. ISParade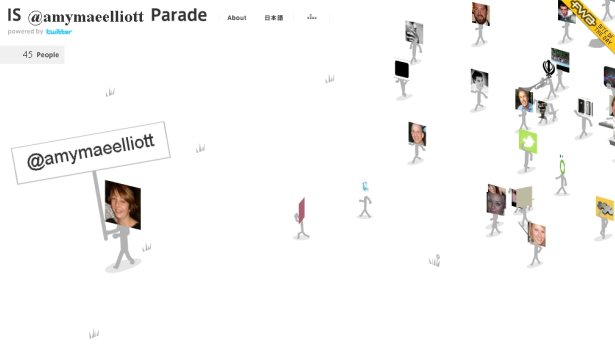 Quite possibly the most fun you can have with Twitter, this Japanese app will create an animated parade of your Twitter contacts complete with, in our opinion, the "bounciest" music we've ever heard. If you haven't seen this yet, then we really don't want to spoil the fun of discovering it by saying too much more. Head on over and try it out now!
4. TweepsKey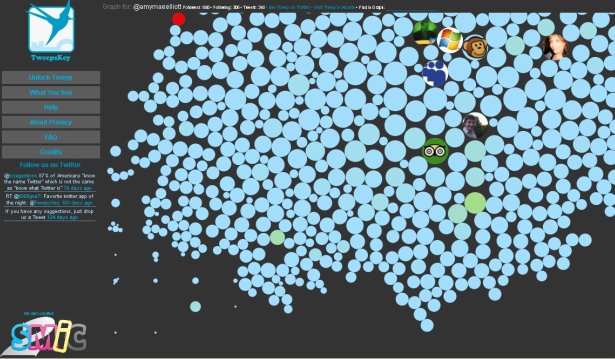 This clever app uses good ol' arithmetic to generate an intelligent graph of your Twitter followers, displaying "tweeps" as differently colored and sized dots across an X, Y and Z axis. Where the tweep is placed depends on the tweets a follower has tweeted and how many followers they have, while the size and color of the tweep relates to data on their followers. It may sound a little complicated, but it's worth a go to see how your personal Twitterverse appears.
5. Crowded Ink "Friends" Mug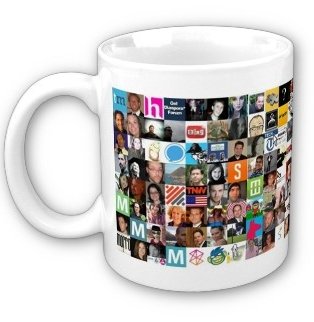 Crowded Ink's online mug-making tool takes all your Twitter follower's thumbnail images and plasters them to the surface of a $15 Zazzle mug, offering you a fun way to display your very own little part of the Twitterverse. As well as generating a design for your username, you can easily do the same for others, so there's some serious gift potential here for a Twitter-loving buddy.