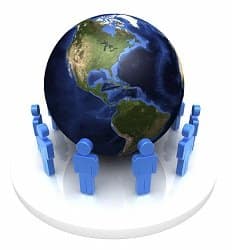 How to Get Business Handed to You on LinkedIn
LinkedIn… so under appreciated. It's like the squirrely little brother to the high school sports star. You know the kid – not very athletic, stays home on the weekends, and wears the pocket protector and glasses just like he always has… and like you'd expect him to.
But very few people have full insight into the geeky little brother: he got early acceptance into Harvard at the age of 15, he built his own miniature radio telescope in the backyard at 12, and he owns 3 patents on software he wrote. He is unassuming, not very flashy, and isn't in the headlines because his accolades are deemed "not newsworthy". But those who really know him know he is a difference maker and one to keep an eye on.
Welcome to the world of LinkedIn. While Facebook and Twitter get all of buzz and all the headlines, LinkedIn is quietly making lots of people very rich and making a tangible difference in their lives. You don't hear about a lot of B2B-focused businesses making tons of money on "the other two" unless your name is Dell or Quiznos. Can a smaller business without national name recognition generate revenue through Facebook or Twitter? They can – but it's a lot easier to do on LinkedIn. Here's how owners, decision makers, and influencers can leverage their LinkedIn connections to build their business:
Carve Out TimeAs with any other online marketing practice this is going to take time. Too many people think of LinkedIn as an online resume. That's good news for you because when someone is using the search function you have less competition to get to the top. People are looking for professional service providers each day and you're better off being at the top of the search results. If you have an extensive job history then it will take you longer to fill out your profile than a fresh college graduate. Take the time to fill out your profile. Also, as we'll see later, it is important to stay active on LinkedIn and this, of course, requires time. You're building a long-term strategy here that won't pay off instant dividends in most cases.
Use an Appropriate PictureWhile the picture of you on your wedding day has sentimental value to you it doesn't do much good on LinkedIn. Remember, this is a site for professional networking, not personal. People want to see your face. Use a picture that shows you from your shoulders up. It will help make the personal connection and you're more likely to receive clicks on your profile.
Get a Vanity URLIf you haven't already done this, it's a must. It looks a lot better than a URL that has a bunch of random characters behind it and it fits better on a resume. Follow this link to change you "Public Profile URL".  See what mine looks like here: Hunter Willis' Profile – while you're there please add me to your network.
Build Your NetworkThis item is crucial to extending your reach and showing up in the search results. One of the most important components to showing up in the search results is if you're in someone's network or not. A network is considered to be up to 3-degrees away from someone. Currently I have a little over 5,100 connections and a total network size of over 15 million. Yes –that's 15,000,000. This means that I have the chance to show up in the top of the search results for all of them.I was able to invite over 1,000 connections to my profile by using a service called Open Networker. It is a place for people who want to add connections. Your email address is then added to lists that people use to send out invites to connect. It is a great resource but it can't replace connecting with people you already know and people you meet. One word of caution: don't go crazy sending out invites to connect. You're limited to around 3,000 invites and you can quickly and easily burn through them by using the lists you get from Open Networker.
Send a Personal Email to Everyone You Invite to ConnectEvery time you send out an invite to someone you have the option of sending the generic LinkedIn message or you can write a personal message. Here is another area in which you can make yourself different from others. Most people just hit "send" with the generic message. What does that say about you? Does it communicate you want to be a valuable resource for your connections? Or does it say that you just want to add someone to your network?The best networkers – and those who get business on LinkedIn – use the personalized invite letter. I use a boilerplate letter (Click here to see it) that thanks the contact for the invite, gives a bit about my personal philosophy, communicates what I'm hoping to get out of LinkedIn, and then I offer to help in any way that I can – including making introductions to anyone in my network. Most people will just delete the email but you'll be on the radar of a few. This can help you in the long run too. This can be a tedious task when you're using a service like Open Networker because you'll have over 1,000 names to whom to send invites. Take the time to do it this way – it is more likely to pay off dividends than just the generic way. This is also an activity you can outsource through a service like Scriptlance.com or eLance.com. If you want or need advice on outsourcing, please let me know. I've outsourced about a dozen projects over the years.
Come back tomorrow and we'll look at more tips on how to get business from LinkedIn.  We'll look at how all of these tips integrate together and how to leverage them to show up at the top of the search results.  We'll also explore how spending 15 minutes a day on certain sections of LinkedIn can reap additional benefits.