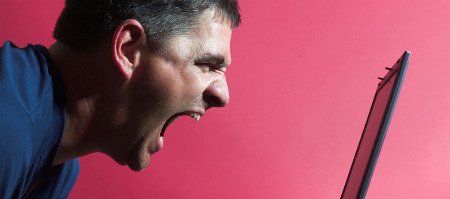 New software on your computer can cause problems. Here's how to restore it.
Things haven't worked right since I installed this program. I've removed it, but my computer is still acting strange. How can I go back to before I installed the software?
So often we will install applications to our computer that we might not need. Occasionally, those applications will cause us more frustration than offer assistance. Even after removing those applications, sometimes things will still not work correctly. Where do we go from here?
Starting in Window ME (the version of Windows we all try to forget), Microsoft implemented a technology called System Restore. This would allow you to take your computer back in time to a point where Windows made a snapshot of the operating system so that you could go back to that point. Some of the components in this snapshot include registry keys, system files, and even installed programs. System Restore does not affect documents which you've saved. It will not delete those documents if they were created after the snapshot you wish to restore.
In Windows 7, System Restore can be found in All Programs then Accessories then System Tools: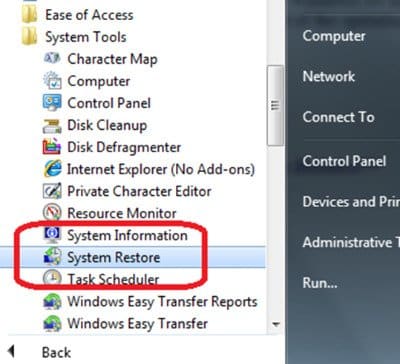 Alternatively, in Windows Vista and Windows 7, simply type System Restore in the search box on the Start menu.
When launching System Restore in Windows 7, you will be given an option to restore back to the recommended restore point or choose an alternate restore point. Generally, the recommended restore point will be back to the point where your operating system was last changed. In the screenshot below, this point is right before Python 3.1.1 was installed. If this is the point that you need to restore to, click Next. If not, select Choose a different restore point and click Next.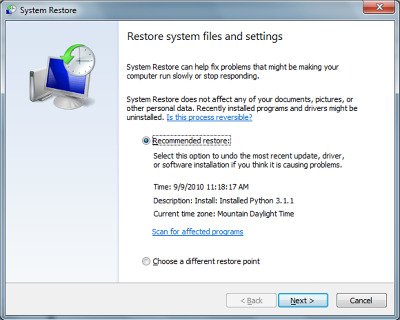 If you chose a different restore point then you'll then see this screen: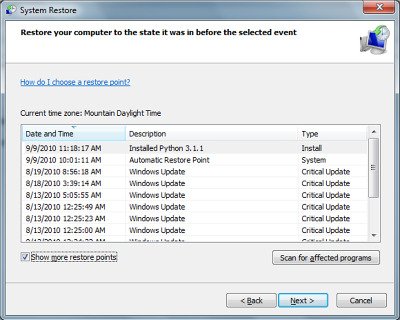 Checking the box Show more restore points allows you to see many other points that you can restore back to. Select the appropriate restore point, then click Next.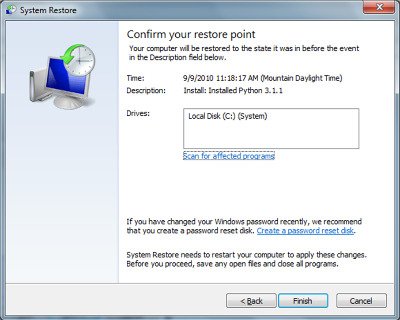 Windows will then confirm your restore point. Please note that when you click Finish, your computer will restart automatically. Make sure that you have saved any open documents prior to clicking Finish. You will receive one more confirmation, and then the restore will start.

After your system is automatically rebooted and you have logged back into Windows you will receive confirmation that the restore completed.


Your system now should be in the state it was at the time the snapshot was taken.
Quick Tip: To take a System Restore snapshot manually, from the Start menu search box, simply type in create a restore point and select the option that appears.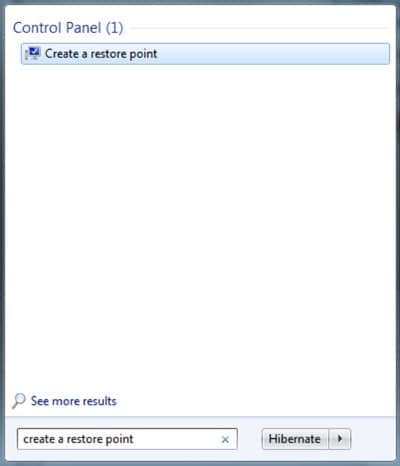 Next, click on the Create button at the bottom of this screen. Provide a description for the restore point. You will then see this snapshot in System Restore next time you launch the application.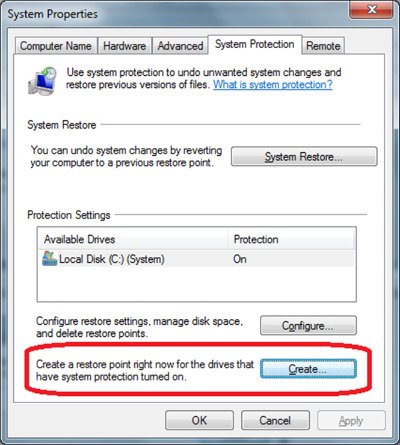 For more information on System Restore, visit http://windows.microsoft.com/en-US/windows7/products/features/system-restore.