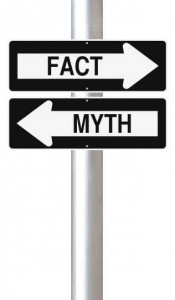 In the complex world of business, owners struggle to find out what's myth and what's reality, especially when it comes to outsourcing. There's a lot of talk, but one things for certain: outsourcing the management of your technology saves money.
Let's look at some of the most common myths – and debunk them for your peace of mind:
When handling all technology needs in house, you're likely paying an internal person or staff the following costs: salary, vacation pay, bonuses, benefits, healthcare and more.
When outsourcing, it's a flat-rate monthly fee for access to an entire team of knowledgeable professionals with a wide range of skill-sets.
Outsourcing is for large enterprises
We've heard it before: "Outsourcing is for large enterprises with higher budgets!"
The truth is, outsourcing is more affordable and efficient for smaller companies. You get access to the latest technology and the best possible talent, that helps you gain a competitive edge without spending tons of money trying to procure the right solutions on your own.
Outsourcing makes it more difficult to maintain compliance
When it comes to maintaining compliance and growing regulations with data confidentiality and protection, many businesses struggle to trust an outsourced organization.
The truth is, the right outsourced organization has extensive experience working with businesses in the same industry and stays ahead of the evolving regulations to ensure compliance. That's more efficient than hiring and training personnel that are outside of your core business focus.
Outsourcing is less responsive
Because staff is always around, it feels like they're more responsive.
When they're juggling multiple tasks and working with limited skill-sets, it takes longer to resolve issues. An IT service organization, on the other hand, is able to proactively prevent issues, resolve them quickly due to having an entire team available.
Outsourcing leaves you without control
Your business depends on its technology and don't want to lose control.
That's natural, and a great IT service organization keeps your best interests in mind will be transparent about any security measures in place, as well as the state of your network, at all times. You will be given reports on a regular basis, in order to keep you informed on what's happening in terms of your infrastructure.
Amnet provides managed IT services wherein we become your outsourced IT department. Contact us at (719) 442_-6683 or email us at info@amnet.net – we'd be happy to debunk any myths you've heard and make you feel comfortable making the choice to outsource.