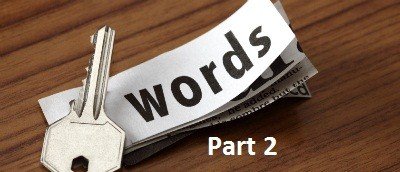 Keyword Research Part II – Research Tools
As we discussed in our previous article in the series, keyword research is the cornerstone of any SEO campaign.  Thankfully there are plenty of online tools you can use to make that job easier.  Today we'll look at some of the more popular free tools you can use when generating your keyword list.
Google Keyword Tracker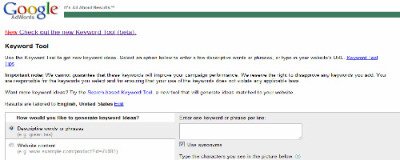 This is one of the most valuable keyword research tools out there because it gives you approximate search volumes on Google – who has 60%-70% of the search engine market. The newest version, which is still in beta, gives you monthly search volume so you can see if certain words and phrases trend seasonally.
I prefer to use the non-beta version of the tool because it allows me to get search volume for broad, phrase, and exact versions of the keyterm. Another feature of this tool is that it suggests other terms for you related to the term you're searching for. This can be used to expand your keyword list and find niches you're competitors aren't targeting.
Finally you can use this tool to do some quick research on your competitors' websites to see what keywords and terms they're using. There is the option to plug in a URL and then let Google do the work. Again – this is a way to figure out what terms you should be using and to discover niches your competition may be missing.
Wordtracker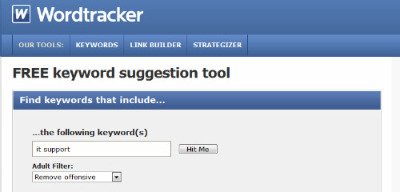 Wordtracker is a slimmed down version of Google Keyword Tracker. The process is pretty simple – you put in a word and it gives you different variations of the word/phrase so you can expand your list. One thing to keep in mind – the search volume is a fraction of what Google gets. It should only be used to expand your keyword list. Other than that it isn't a very helpful tool.
Google Sets

Google sets is a fun tool that generates lists for you of related words. For example, If you add blue, red, green, and yellow to the "set" then Google generates a list of other colors – because these are related to the items you originally entered.
You can use this tool by entering in some of your top/most popular keywords to generate more words and phrases that may not be on your list. You can then take these words and plug them into the Google Keyword Research tool to expand your list even more. This is one of the most underutilized tools in the SEO field.
MSN Labs: Commercial Intent
This is a cool little tool from Microsoft. It tells you if certain keywords and phrases are typically used for commercial intent, or buying. You have to measure the subjectivity of the results for yourself but it can give you a pretty good indication if you're headed in the right direction. Of course, this tool is only useful if you're trying to get someone to buy a product or service through your website.
There are literally dozens and dozens of other tools you can use for keyword research and I encourage you to check them out.  However, these are the free tools that I've found most useful in my keyword research.
Good luck, happy searching, and please leave any comments and questions!