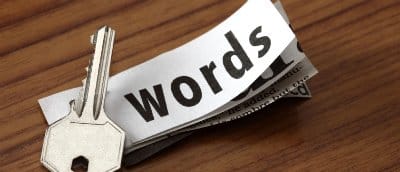 Keyword Research – Part I
Every single search engine optimization (SEO) campaign you do will revolve around keyword research.  It is critical to your online success that you get this step right.
How do you define keyword research as it relates to your website?  It's pretty easy actually – in its most basic sense you're doing is using the same keywords and phrases on your website that your potential customers are using.  Why do you do want to do that?  Well – these prospects are using these keyphrases in Google and, if your page is set up correctly and Google thinks you're the most relevant result you'll show up at the top of the search engine results page (SERPs).
How do you Start doing Keyword Research?
I usually start my keyword research campaigns with two old fashioned items called the pen and the yellow legal pad.  I write down all the words and phrases I know that are related to the targeted industry.  You'll want to use words that are are directly related to your industry as well as words that are associated with your industry.  In the case of Amnet we might use words that our clients would use like:
computer network management
IT support
outsourced IT department
These words are descriptive and will constitute a large percentage of the words people use to find us.  However, there are lots of brands associated with our industry so other words and phrases we'd consider are:
Dell server repair
Cisco expert
Norton spam solution for businesses
Dell, Cisco, and Norton are all words associated with our industry and its likely that a client will use them so I'll put them on my website.  These "associated words" may not constitute a large percentage of our search traffic but they're used enough where we should pay attention.
It's important you use outside resources to build your list too.  Why?  Well, in a previous article we talked about "The Curse of Knowledge".  Sound familiar?
What is TCOK? Basically it says that once you know something you no longer remember what it was like to not know it. Think of the last time you asked a techie or a lawyer a question and he went on for 6 minutes even though you were lost after 30 seconds. Every industry has its own set of acronyms and jargon that most outsiders won't intuitively know. By asking outsiders for their help you can get a large set of keywords and phrases that you can then use in your website.

What are other sources for putting together a keyword list?
A great place to start is with your current customer base.  Obviously they're familiar enough with your product or service to know they need it but not so familiar that they're doing it themselves.  Ask the question, "If you to do a Google search to look for someone who does what I do, what search terms would you use?"  They'll give you a great list and you can then expand on it.
Read through your past and current sales material.  Are there words and phrases that you've moved away from?  Can you cull any ideas from that material?
Look at your competitors' sales material.  What words and phrases are they using that you can also use?
Look at your competitors' website.  Look at their page titles, their body copy, and their links.  Do you see words and phrases repeated over and over again?  Chances are they think they're pretty important.  We'll find out soon on how to figure that out but, for now, write those words down too.
This can be a long and tedious process but it is well worth it.  Come back next week when we review the different tools that are out there for helping you put your list together.  If you have any questions, please feel free to ask!