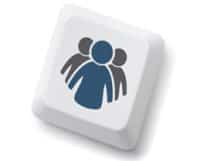 How people interact with your online marketing strategies tells you a lot about them.
We've all heard that we should be marketing online but very few of us know what a real strategy looks like. The important thing to remember is: marketing hasn't changed – the only thing that has changed is how you deliver the message.
ExactTarget recently released a study that tells a lot about your customers based upon what they check first in the morning:  email or Facebook.

People who begin their day on email tend to be more task-oriented than their Facebook and Twitter counterparts.  They also tend to check their email more throughout the day than others.  These users are "more likely to approach online interactions with the goal of finding deals, promotions, or new product information."
Those of us who tend to check Facebook first (that'd be me!) are more likely to have socially-oriented motivations when interacting online.  We tend to draw firm boundaries between what is seen as appropriate and inappropriate online.  Additionally, we "feel Facebook is more appropriate for entertainment and showing support for brands, while email is more appropriate for deals and transactional messages.
While 68% of online users consider themselves "Email first" people, these groups are not mutually exclusive.  Almost 40% of the people in this class also use Facebook.  Of the Facebook crowd, 84% use email on a daily basis and their top motivation for accepting email from a brand is the same:  promotions and deals.  Collectively these two groups represent more than 66% of all online consumers.
So what can we learn from these two groups?  Let's take a look:
Posting to Facebook first thing in the morning is a great way to get eyeballs on your message.  And due to the social nature of the Facebook users a well-crafted message can get passed on quickly to other morning users.
The same is true for email users.  A message in the morning is likely to get read because the user is making it a priority.
Cross promote the two groups.  Be sure your Facebook users know they can get deals through email and vice versa.  If your company is doing something to help the community be sure to put it in your newsletter and post it on your website.  Then post that link on your Facebook page.  The "human face" to your Facebook campaign will resonate with the social aspects of Facebook user.
Remember that you need to craft each strategy to the audience.  Email users are much more willing to accept repeated sales offers than Facebook users.  Email gives you a chance to sell your product but Facebook gives you a chance to get people to fall in love with your brand.
What did you take from the study?  What have you learned from your online marketing strategies?