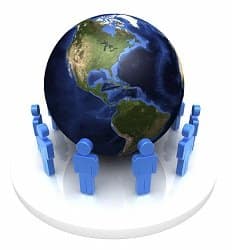 How to Get Business Handed to You on LinkedIn – Part II
On Thursday we discussed the first five tips on using LinkedIn for business.  Today we look at 7 additional tips to getting business handed to you on LinkedIn.
Send a Personal Email to Everyone Who Invites You to Connect

Just like you want to send a personal email to everyone you invite to join your network you should send a personal note back to those who invite you. You can customize each response or use a similar boilerplate that you use to send to your invites. Remember – you're showing your connections that you want to add value to your LinkedIn connections. This is one way you can make yourself different from most other people on LinkedIn.
Optimize Your Profile
Once you start sending (and receiving) invitations, people will visit your profile to see who you and what you're all about. Write your profile to your potential customer base. Too many people write up their profile as an online resume. This is a mistake. People use LinkedIn for more than just finding job applicants – they use it to find service providers. Know your audience and write to it. Here are a couple of quick tips: *Break up your descriptions into paragraphs – they're easier to read. List your accomplishments and areas of strength. Use * as bullet points (LinkedIn doesn't allow them). This allows for quick consumption of information from your potential customers. *Use as much of the space provided as possible. People use the search function all the time and the more words and phrases you have the more likely you're going to show up in someone's search.
Put Your Most Important Keywords in the Most Important AreasHere is a little bit of LinkedIn magic. There are 5 keys to ranking high – and even ranking #1 — on LinkedIn.  You'll want to put your most important keywords and phrases in each of these five areas:*Headline
*Current Work Experience
*Past Work Experience
*Summary
*Specialties

LinkedIn's search feature has deemed these the most important areasRight now I'm ranking in the top 3 in my network for the following phrases: Social Media Management, SEO Expert, and Internet Marketing Manager. I went with multi-word phrases because there is less competition for these phrases and I'm more likely to rank high. High rankings are important on LinkedIn because, like Google, most people don't click past the first page of results. The search feature is one of the most important reasons to grow your network because the results page shows the profiles of those you're connected to first. This can be first, second or third degree connections or group connections. This means that the larger your network is the more likely you are to show up in someone's search results.

Update Your Status on a Regular Basis and Make it Available to Everyone

Update your profile on a regular basis as this will keep you in the feed display of other LinkedIn users. For those connections you already know (like a hot prospect) you'll be top-of-mind. For those connections that you don't have a deep relationship with, they'll see your name and hopefully remember you when they need something. Additionally, if you ever post a blog or post an interesting bit of information you may hit upon a need they have and they'll contact you with the plan to hire you to fill that need. Of course, this only works if you're showing up in everyone's feed. This is easy to change: Go to "Edit my profile" and edit your activity feed on the right side. You'll be taken to a new screen and you'll have the option to change to whom you want to show your member feed activity. Change this to "Everyone". There is no reason not to. Now all 70 million of LinkedIn's members will see your feed and that's 70 million chances someone will see your name, your post, and contact you.
Join and Participate in GroupsThis is a great way to connect with other people in your industry and in your market niche. Here you can share ideas, discuss trends, help others with issues they may be having, get help on things you're stuck on, and find new business opportunities. You're probably heard the mantra that you need to give before you can get. This is very true on LinkedIn. If you go in and start posting links telling people they need to buy XYZ from you you're going to be largely, if not completely, ignored. People don't know who you are and don't know if you can be trusted. You burn a lot of trust equity by simple asking people to give to you, in this case their money, without ever giving anything away. But, if people see you're participating in the discussion, then they start to see you have credibility and you start to earn trust equity. That way, when you do have something you'd like to sell, people don't see you as someone who is just blasting the group with a sales offer; you're seen as a valued member of the community.You can join up to 50 groups so you can get plenty of variety. Look for groups that fit your niche as well as some of your interests. Be sure that you join several of the very large groups on LinkedIn because this will help expand your reach in the search results. Remember how I told you that I have over 5,000 personal connections? Well, one of the groups I'm in has over 200,000 people. Inevitably many of these people are already going to be in my network but some won't be. By joining large groups I not only have a large group of people whose brain I can pick but I also increase the chances I'll show up in someone's search results.

Starting a group also builds your credibility. We'll go over what goes into a good group in a future post.

Participate in LinkedIn Answers

LinkedIn has a great section called "Answers". This is where people ask questions and the community answers. Helping someone is a great way to build credibility and goodwill. It is also a great way to build your contacts and generate leads if you do it correctly. For example, let's say you run a small business and you have a question about configuring a Microsoft Exchange server. Which answer would you rather get – one from an IT firm that gives step-by-step instructions on how to solve your problem with a note that says "If this doesn't work let me know. There is one more thing you could try" or one that says, "I do this for a living and constantly help my clients. Shoot me an email or give me a call and we can talk." Personally, I'd rather get the first answer. Now, let's say that you're still having problems with Exchange and you look at the profiles of both of the guys who answered your question. In each of their profiles they both say that they're Exchange experts and have the ability to help clients across the country remotely. Who is more likely to get a call and get a new client?

Additionally, the question asker can select an answer as the "Best Answer". This shows up on your profile too. Do you think it adds credibility to your profile when you have 50 Best Answers in your niche? You better believe it does! I once heard a story that a New York Times reporter was seeking a quote on a particular subject for a feature article and she went to LinkedIn to find the person with highest number of "Best Answers" as her "expert". I can only imagine how much credibility it would add if the New York Times referred to you as "an expert". One of my connections, Wallace Jackson, has really taken this approach to heart. He has over 100 best answers and he says that it is a strategy that pays off.

Ask for and Give RecommendationsRecommendations are essential for getting business on LinkedIn. It works just like it sounds – people write out a recommendation that is posted on your profile. Once again you have to look at the credibility it adds. Let's say that the final contract for a project is coming down to two people: you and Fred Smith from ABC Company. You have 15 recommendations on your LinkedIn profile and Fred has none. Both proposals were along the same lines the difference in price is insignificant. Who do you think will get chosen? YOU! People can hear your pitch and think you have credibility but it can still leave some doubt. BUT, if someone else gives you a recommendation then the perceived credibility you have is affirmed by someone else. The more affirmation you have the better off you are because other people are affirming the quality of your work. Now here is where it can get cool – you can actually charge MORE for your services once you have increased your credibility through recommendations.Let's go back to the Exchange server dilemma. One firm, with no recommendations, is quoting $1,000 to do the job. Your firm, which has 30 recommendations including 12 that talk specifically about Exchange, is quoting $1,300 for the job. Even though the first company is charging less there is the variable of the unknown. The buyer may like the price but he doesn't know if the job will get done well and in a timely fashion. You, on the other hand, provide the buyer confidence that the job will be done correctly and on time. You can leverage your recommendations to justify the higher price. Yes, you'll still lose out on some contracts because people are going for the lowest price possible but you should more than make up for that by acquiring clients who value good work over a low price.
So, there you have it. My 12 best tips for Getting Business Handed to You on LinkedIn.  I do feel a little bad… I said this was an article on how to get business "handed to you" – which implies very little work.  But if you read the first tip from yesterday and then continued through today then I think you understand it takes a lot of work before the business starts coming through the door.  But isn't that always the case?  It's called work because it's work!
I'd love to hear your thoughts, comments, and stories. Did I miss anything? Overstate something? Do you have any stories you'd like to share? Please leave your comments below.