Windows 7 comes with a feature called the Action Center. For those that have Windows 7, you might have seen a pop-up related to this utility in your system tray.


For those that were Windows Vista users, this tool replaces the Security Center. In addition to providing information and suggestions for Windows firewall and Windows updates, the Action Center covers far more areas:
Windows Update
Internet Security Settings
Network Firewall
Spyware Protection
Virus Protection
User Account Control
Windows Backup
Windows Troubleshooting
…and more!
Should these areas be functioning incorrectly, you will be notified by the Action Center. The icon in your system tray will change to reflect that there are items which should be addressed:

Once you receive such a notification, simply click on the flag icon and choose Open Action Center: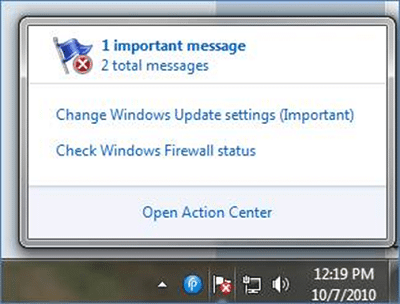 From here, you can make adjustments to the problems detected and take corrective action. Additionally, should you see problems outlined that aren't of concern to you, then you may choose to not be notified in the future.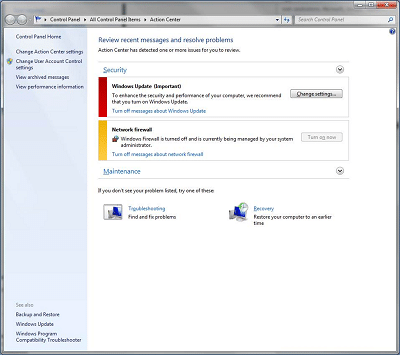 Please bear in mind that should you choose to ignore specific alerts, you will forfeit being notified by your computer should there be legitimate issues. Always exercise caution in this regard.
For more information about the Windows 7 Action Center, visit http://windows.microsoft.com/en-US/windows7/What-is-Action-Center.