Cloud computing has been talked about more and more in IT and business circles. Some businesses have embraced the cloud while others have been more reluctant. Some of the reluctance is due to the fact that businesses might not understand all of their options when it comes to cloud computing or even understand how cloud computing works.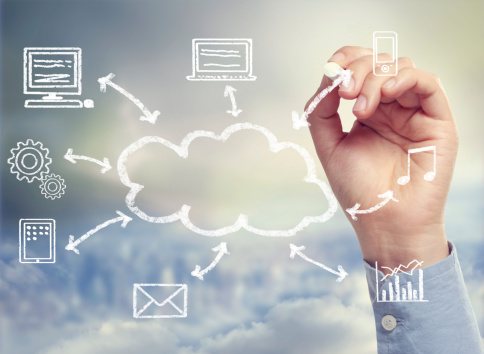 Here are some things to know about cloud computing:
What is Cloud Computing?
Cloud computing is basically using remote servers and networks to process and store data. The work appears to be processed through your computer, but is actually done remotely and you can watch the end result through your computer. There are three different types of cloud computing: software, platform and infrastructure.
Software as a Service (SaaS)
This is the most popular type of cloud service. Nothing needs to be installed on individual computers and the service can be accessed through a web browser. Maintenance and support can be managed by vendors, which makes things simpler for businesses. One example of this is Microsoft Office 365.
Platform as a Service (PaaS)
PaaS provides a platform for clients to run and manage applications over the internet. The hardware and software is hosted by the PaaS provider. This means that the company will not have to install hardware or software on their own systems. This can cut down on development time and bring products to market faster. One example of this is Google App Engine.
Infrastructure as a Service (IaaS)
The bottom layer of cloud service involves a company hosting hardware, software, servers and storage for the business. This frees up the businesses resources for other uses. The businesses will need to maintain the service, updating to the latest version if needed. One example of this is Amazon Web Services.
Discover the power of cloud computing. Call (719) 442_-6683 or email us at info@amnet.net to find out more. Amnet is here to handle all of your information technology needs.