The most significant difference between a regular Windows 10 laptop and a Chromebook is the operating system.
Companies with extensive field operations often look for the best ways to save money. Google, or Alphabet as the parent is now known, has created an OS they call Chrome OS. It is the OS used on Google OS laptops that are called Chromebooks.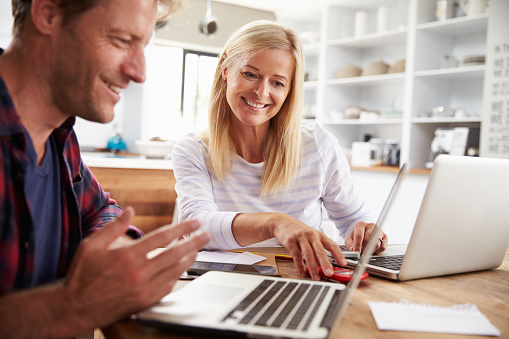 The most significant difference between a regular laptop and a Chromebook is the operating system. Most new non-Apple laptop computers run Windows 10. Windows 10 is a full-featured OS that works well on and offline. Chromebooks are more limited in what they can do but do offer good security. So, let's make a side-by-side comparison.
Comparison of Windows 10 Laptop and Chromebook
Both operating systems start at budget-friendly prices to more expensive devices with big screens including touch capability and many other bells and whistles. The least expensive version of a Chromebook sells for around $160 versus around $200 for a similar size Windows 10 laptop.
User Interface
The Chrome OS was first developed as Google's Chrome Browser. Building on that ancestry, the Chromebook is good at running almost any app from its browser window. The browser is the heart of the Chromebook OS and automatically updates whenever there is a new OS version. Since the OS and the browser are tied tightly together, security issues are far less prevalent than found on the Windows 10 OS.
On the other hand, the Windows 10 OS allows internet access from either the included Windows Explorer browser, Windows Edge browser, or a third-party browser such as Chrome or Firefox. The Windows OS is robust and allows for using many programs that are freestanding such as MS Office. The office solution is a full download that competes with Google's web-only documents, spreadsheets, and a presentation part that replaces MS Excel. Chromebook users who want to use MS Office can use MS Office Online that is browser based.
Some claim the Chrome OS interface is the OS of choice due to its simplicity and security. But, the Windows 10 OS gets high points for its robustness and ease of customizing.
This is a tie between the two OS'.
Battery Life
The purpose of laptops and Chromebooks is to be able to use your device away from the office. This means battery life is an important consideration for deciding on a Chromebook or Windows 10 notebook.
Across the many makers and configurations of the Chromebook, the average battery life was 9 hours and 59 minutes. But, the average 13-inch Windows laptop lasts just 6 hours and 35 minutes.
As far as battery power is concerned, Chromebook is the clear winner.
Online Security
Unlike a Windows 10 notebook, a Chromebook does not need any protection from security breaches or viruses. Any new security features automatically appear as soon as you boot the Chromebook.
Windows 10 requires that you use its built-in security or download anti-virus programs and keep your system patched as new security patches are released.
The winner is Chromebook.
OS Speed
Chromebooks are known for their astonishing quick boot times – under 5 seconds compared to a Windows 10 boot time of about one minute.
But, Chromebook's run slow, this is because of a slow internet connection speed as almost all processing for a Chromebook takes place in the cloud. Windows recover from its slower boot time by processing much of its tasks in RAM.
Windows wins this comparison.
For more information about different operating systems contact Amnet in Colorado Springs and the Metro Denver area is the trusted choice when it comes to staying ahead of the latest information technology tips, tricks, and news. Contact us at (719) 442_-6683 or send us an info@amnet.net for more details.